Category: Programs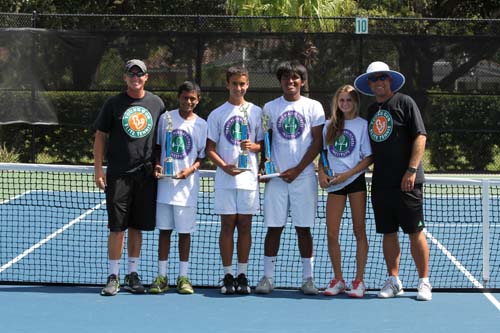 The Academy Program at Elite Tennis Development has been created for players who are committed to an intensive training schedule in an effort to maximize their potential both on and off the court.
Through a daily regimen of technical, tactical, mental, and physical training, the Academy Program systematically addresses each aspect of a player's game. Sessions are composed of drilling, mental conditioning, physical conditioning, mental toughness and nutritional training.
A periodization approach to the technical, tactical, physical and mental elements of training enables Elite Tennis Development to produce skilled, motivated, athletes who rise to the challenge of competition. Periodization works in cycles and provides the ability to plan technical, pre-competition and competition training phases around each student's short and long-term tournament schedules.
2013 - 2014 Tuition:
| | | |
| --- | --- | --- |
| Academy Program | Boarding | Non-Boarding |
| Annual, 11 Months  | $55,000 | $40,000 |
| Semester, 5 months  | $29,000 | $21,000 |
Boarding includes:
Accommodation 
Nutrition Plan (3 meals daily and snacks) 
Tournament Play (1 per month, within 50 miles) 
Daily Local Transportation
24 / 7 Supervision
Laundry
Internet
• Tuition is payable in full upon enrollment and is non-refundable.
• A player may reserve a position in the academy with a $4000 deposit pending enrollment within 90 days.
• Additional / optional expenses at student's discretion are extra.